Welcome to Rock Island Machine Quilting!
Welcome to Rock Island Machine Quilting!
My machine quilting business is specifically designed to help those people who love to piece quilt tops, but don't have the time or equipment necessary to do the actual quilting.
My studio is in the beautiful Monadnock Region of New Hampshire and I quilt with a Gammill Vision 2.0 professional quilting machine (30 x 12 inch throat opening and a 12 foot table).
I provide a complete range of longarm machine quilting services including large and small meander, edge-to-edge pantographs, and custom designs. I can also provide other services such as binding and finishing. Click here for a full listing of the services we offer.
As a lifelong lover of fabrics and anything that involves the use of a needle, you can rest assured knowing that the quilt you spent so many hours working on will be treated with the utmost care and respect. Also, please know that ours is a pet- and smoke-free environment.
I look forward to helping you finish your family's newest heirloom!
Sue Bowles
PS. I am often asked why I chose the name Rock Island for my machine quilting business.
Click here for the answer.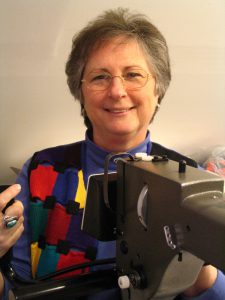 I am a lifelong lover of fabrics and anything that involves the use of a needle…