Frequently Asked Questions
Why did you choose the name "Rock Island Machine Quilting?"
Our family is blessed to own a little one-room log cabin on a large lake in Maine with the mellifluous name, Mooselookmeguntic. It is an idyllic vacation retreat. And, sitting just off shore from our property is a distinctive rock island. The island is a landmark for the fishermen and kayakers who frequent the lake, so it made sense to name our cabin Rock Island Point. Choosing the name Rock Island for my quilting business is a way for me to combine my love of quilting with my love of our little place in the woods.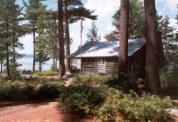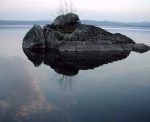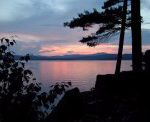 What is your turnaround time?
I schedule my quilting time in advance, so there may be a delay before I am ready to accept delivery of your quilt. However, when you call (or write or email) to discuss your quilting project, I can give you an exact date when I will work on your quilt. As a result, when you deliver (or send) your quilt, you will know that it will be completed within two weeks.
I will contact you by email or phone (your preference) if, for some reason, work on your quilt will be delayed.
I would also be more than happy to work with you if you need a quilt for a special event. Please understand that it may be necessary to charge extra for a truly rush order.
How do you figure costs?
My quilting fees are determined by the number of square inches in the quilt. Multiply the quilt length by its width and then multiply that number by the cost of the pattern you've chosen. Be sure to include any other costs/fees such as specialty thread costs, binding, batting, etc. Finally, please include the cost of shipping and insurance if you will not be picking your quilt up at my studio.
All payments are due in full upon completion of the quilt. If you do not live in the area, I must receive your check before I ship the quilt back.
What type of batting do you prefer?
Although I can use almost any batting in my machine from poly to wool, my distinct preference is either 100% cotton Warm & White or Hobbs Heirloom Black 80/20 (if you need black batting). These battings are not only excellent quality, they hold together well and quilt beautifully. Plus, they aren't "puffy" which means that there is much less chance for puckers and wrinkles in the finished quilt.
You can certainly provide your own batting. Or, if you prefer, I would be happy to provide batting for you. Please click here for the price.
Just be certain that the batting (and the backing) are 6 to 8 inches bigger (on all sides!) than the top. Click here for advice on how to prepare your quilt.
Do I need to pin or baste my quilt together?
No, I pin all three layers to different rollers as I "load" the quilt on my machine.
What is machine quilting? Longarm quilting?
Technically, machine quilting is any quilting done with a sewing machine versus being done by hand. However, if you have ever tried to wrestle a full-size quilt (complete with batting and backing) through your home sewing machine, the limitations quickly become obvious. First, most home sewers just don't have the space available in their sewing area to handle an item the size of a quilt. Second, most home sewing machines don't have enough "reach" or "throat space" to accommodate the yards of material plus the bulk of the batting. And, finally, it is virtually impossible to maneuver a quilt-sized item through the complex twists and turns required to finish a quilt using a home sewing machine.
A professional machine quilter, on the other hand, uses a large frame that allows the entire quilt to be wound onto rollers. One roller holds the unfinished quilt and, as the quilter works, the quilt is gradually moved to the second roller that holds the finished product. The quilting frame also has a moveable platform for the sewing machine. So, instead of moving the quilt through the sewing machine, the sewing machine is moved over the quilt–much more efficient.
The final difference is the sewing machine itself. Most home sewing machines have a throat space of about six inches. A longarm quilting machine, on the other hand, has a throat space of 15 inches or more. This added space means that the machine can cover a much greater area of the quilt and that larger and more complicated quilting patterns can be employed. A longarm quilting machine also has a special foot that allows it to be moved in any direction, not just a straight line like a typical home sewing machine.
To put things into perspective, my quilting frame is 12 feet long-this allows me to "load" even king-size quilts. And my Gammill Optimum Plus has a throat opening 30 inches wide and 10 inches high.
What are pantographs? Edge-to-edge quilting? Meandering? Stippling? Custom quilting?
Let's deal with these questions in reverse order.
If you have ever quilted, you know what custom quilting is: Using the piecework of the quilt top as inspiration for the quilting design. Variations include "stitch-in-the-ditch," and echoing.
Meandering, on the other hand, is just what you might think: Random quilting that does not follow any set pattern. Meandering is also sometimes called snail-trail or puzzle pattern. Typically, meanders don't cross over existing stitches. However, sometimes, small patterns such as hearts or stars or flowers are randomly inserted into the pattern to create a special effect.
A small meander merely means that there is less space between the lines of stitching than in a large meander. In other words, there are more stitches per quilt using a small meander than there are using a large meander. You might say that the quilting is more "dense." That's why the cost is greater for a small meander.
Although the specific definitions may vary, stippling is a term that is used for very dense quilting (typically 1/4 inch or less between the rows of stitching). Stippling is often used as a background effect to highlight another pattern or section of the quilt.
In Edge-to-edge quilting, the stitches literally go from one edge of the quilt to the other. This is easy to do with a professional machine quilting setup – the quilter merely moves the longarm sewing machine along the entire width of the quilt in one pass.
Finally, a pantograph is a continuous-line pattern that is printed on a long roll of paper. The pantograph is specifically made to be placed on the quilting machine table so the user can follow the pattern with a stylus or a laser light while the machine is quilting on the top.
Click here for a description of the various patterns and services we offer.